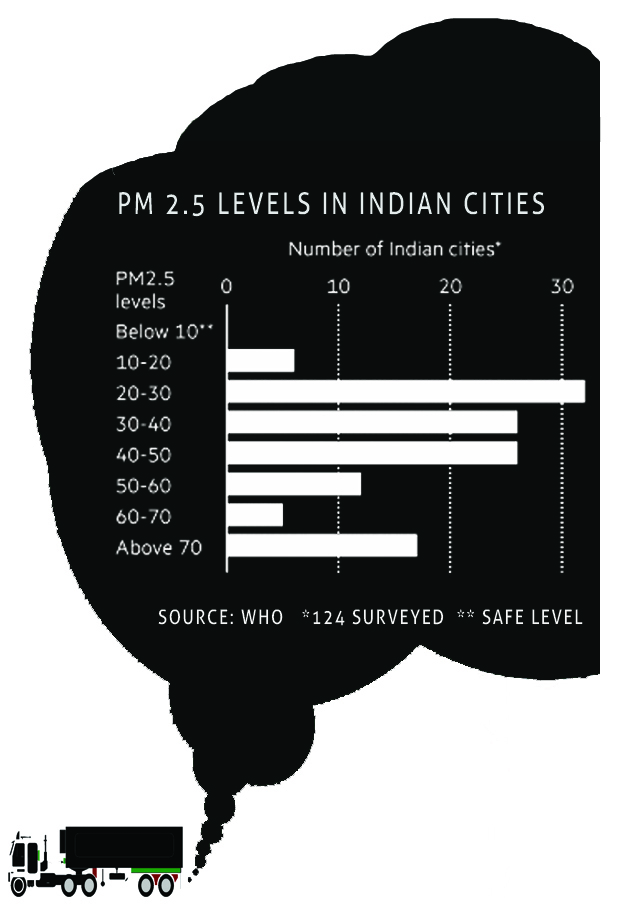 What's polluting the air of

India's major cities
Out of the 15 most polluted cities in the world in terms of PM 2.5 concentration, 14 are in India. The country is certainly one of the riskiest places in the world to breathe.

While Delhi, India's capital city, may be notorious for smog episodes and choking air that is now changing the colour of Taj Mahal, at least dozens of other Indian cities are dealing with severe pollution too. Unfortunately, rural areas are just as badly affected by poor air. In 2015, about 75 per cent of deaths (1.1 million people) linked to air pollution in India occurred in rural areas.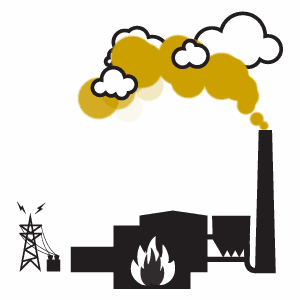 Did you know? In 2015, out of the 10.3 million deaths in India due to non-communicable diseases, 2.5 million were linked to pollution


Air quality status of million plus cities for 2016
Data source: Rajya Sabha, Unstarred Question No. 374, 06 February 2017, Central Pollution Control Board
---
Emerging threat of Nitrogen Oxides

The number of cities where the standards of Nitrogen Oxides (NOx) exceeded norms increased from 18 per cent to 29 per cent in 10 years, according to the Centre for Science and Environment (CSE). Vehicles and thermal power plants are the main sources of NOx pollution.

According to CSE, Amritsar, Aurangabad, Delhi, Faridabad, Jaipur, Kolkata, Meerut, Navi Mumbai, Pimpri-Chinchwad, Pune, Thane and Vijayawada are the hotspots for NOx pollution. NOx leads to the formation of secondary particulate pollution and cannot be filtered by air purifiers.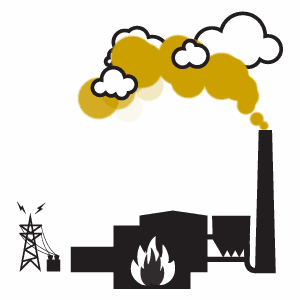 Did you know? One of the largest increases in nitrogen dioxide pollution is recorded in Jamnagar, the site of the largest petrochemical complex in the world
---
PM2.5 and PM 10 exposure

In Delhi, industry and residential activities contribute to 80 per cent of total PM2.5. But the worst-hit cities are Kanpur, Faridabad, Varanasi and Gaya. Reducing residential emission from solid fuels combustion and enforcing new emission standards for power sector can lower PM2.5 levels. The implementation of emission standards for thermal power plants can avoid 124,000 premature deaths every year, according to a recent study. Similarly, cancelling proposed coal-fired power plants can avoid a further 26,000 premature deaths.

Cities in India are also severely exposed to PM10. According to World Health Organization (WHO)'s reports, 15, 21 and 18 Indian cities featured in top 50 worst polluted cities with PM10 in 2011, 2014 and 2016.
---
Sulphur dioxide pollution

India is becoming the world's top sulphur dioxide emitter. While China's sulphur dioxide emission fell by 75 per cent since 2007 India's has increased by 50 per cent. Sulfur dioxide emissions come from coal-fired power plants as this pollutant is produced predominantly when coal is burned to generate electricity. India opened its largest coal-fired power plant in 2012 and it is yet to implement emission controls.

While increased sulphur dioxide emissions are not causing serious health or haze problems because the largest emission sources are not in the most densely populated areas, but the impact may worsen as demand for electricity grows. Sulphur dioxide is an air pollutant that causes acid rain, haze and many health-related problems.
---
Concerted effort required to curb air pollution

Acknowledging air pollution as an issue that requires a comprehensive national action programme, the government of India recently unveiled a draft National Clean Air Programme (NCAP). Though there are loopholes in the plan, it is still a good starting point because reducing air pollution at national level requires coordinated action across state boundaries. Besides policy intervention, there is a need for grassroots-level action to understand multiple sources contributing to the problem.
Note:

PM10 : Particulate matter size less than or equal to 10 μm
SO2 : Sulphur dioxide
NO2 : Nitrogen Dioxide

Data source:

✸ Central Pollution Control Board
✸ EnviStats India, 2018
✸ World Health Organisation (WHO), 2018
✸ Centre for Science and Environment (CSE)
✸ Source apportionment, health effects and potential reduction of fine particulate matter (PM2.5) in India, Louisiana State University 2018