---
Why was Ujjwala Yojana needed?

In India, indoor air pollution is the second biggest killer after high blood pressure. According to Census 2011, nearly 121 million households used traditional stoves (chullha) that trapped them in a highly polluted environment. In 2010, indoor air pollution caused two premature deaths every minute. Dirty cooking fuel has been a major contributor to this pollution.

Percentage distribution of households by primary source of energy used for cooking in rural India, 2011-12
hover over the graph to know more Changing dimension of India's clean fuels and technologies for cooking access since 2000 in South Asia
hover over the graph to see details

Air quality, primarily in rural households, becomes lethal due to use of wood or cow dung as cooking fuel. It is not surprising then that it caused 124,000 premature deaths in the country in 2015. Under such circumstances, it was important to make clean energy affordable and accessible. Ujjwala scheme was launched to address this challenge.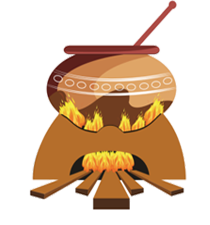 Did you know? Cow-dung cake was the major fuel for rural households in Uttar Pradesh (33.4%) Punjab (30.3%), Haryana (24%) and Bihar (20.8%)
---
What has Ujjwala achieved so far?

The Pradhan Mantri Ujjwala Yojana had kicked off in May 2016 with an aim to give 5 crore LPG connections to BPL families by 2019. The government had allocated Rs 8,000 crore for that. The cost of an LPG connection, which earlier used to be between Rs 4,500 and Rs 5,000, came down to Rs 3,200 as the government bought it in bulk.

State wise LPG connections released as on 31-05-2018 (in numbers)
hover over the states to know more
Data Source: Official dashboard of Pradhan Mantri Ujjwala Yojana, Last updated 31 May 2018

Of this Rs 3,200, the government gave half the money as a one-time grant. If people were unable to bear the remaining Rs 1,600, they could get a loan from the oil marketing companies. Thus, one could get the LPG connection without having to pay anything in the beginning.

The scheme has helped 4.10 crore households get LPG connections so far. According to Prime Minister Narendra Modi, his government has distributed 10 crore LPG connections in four years, including free connections to four crore poor women, of which 45 per cent beneficiaries have been dalits and tribals, resulting in a big social transformation.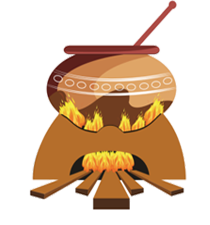 Did you know? LPG household usage has grown from less than 2% of rural households 20 years back to 15% in 2011-2012
What's the impact so far?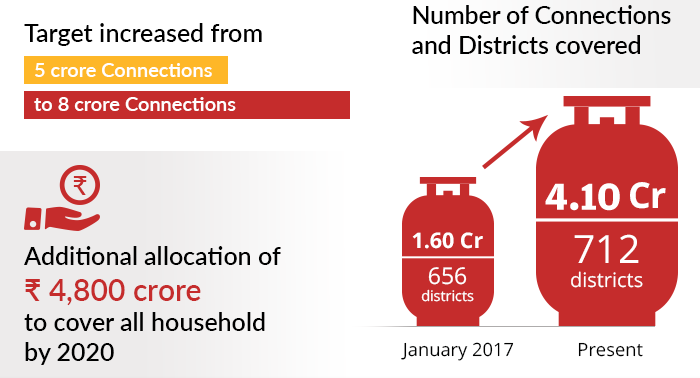 Distributing LPG connection is a job half done. People are either reluctant to give up wooden stoves or can't afford to get LPG cylinders refilled. The beneficiaries keep using LPG minimally so that they don't have to quit wooden stoves completely, sometimes to the extent that a single LPG cylinder lasts up to a year. In other situations, this happens because refilling a cylinder is unaffordable for many since the government provides no support at this stage.


Graph shows the remaining gap between Household using Fossil fues for cooking and LPG connection released under Ujjwala yojna
hover over the graph to know more As explained earlier, under Ujjwala scheme, the cost of each LPG connection is between Rs 3,100-Rs 3,200. Initially, per family indemnity of Rs 1,600 was offered and families were supposed to pay the rest for an LPG stove and gas cylinder. The gas companies started offering interest-free loans to those who were unable to pay the remaining amount

However, when a household took a loan from the gas company, the repayment of the loan was effected through deductions from the gas subsidy of Rs 200 provided by the government on a gas cylinder of Rs 715. Thus, the household availing loan had to pay Rs 715 for seven-eight gas cylinders till the full loan is paid.

Out of 32.2 million new LPG connections in 2016-17, 20 million were beneficiaries under PMUY. This increase, however, does not reflect itself in LPG consumption. Year-on-year (y-o-y) growth in LPG consumption increased from 9 per cent in 2015-16 to 9.8 per cent in 2016-17. Contrast this with y-o-y growth in LPG customers, which increased from 10.2 per cent in 2015-16 to 16.2 per cent in 2016-17.

Graph shows the Poorer states have the biggest mismatch between customer and consumption growth
Year on year growth in packed domestic sales of LPG and number of customers between FY 16 and FY 17, hover over the bubbles to know more (All figures in per cent) Both these situations resulted in several accounts turning inactive.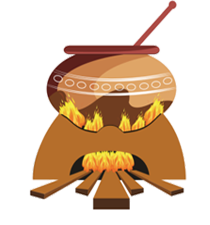 Did you know? As of January 2018, the country had 3.82 crore inactive LPG connections, almost at par with the total number of gas connections distributed under the scheme
Graph shows the large number of LPG connections are inactive in country
(All figures in Lakhs), hover over the graph to know more
Information Gaps Scramble for achieving connection targets questions effectiveness of the scheme, especially when there are anomalies in terms of coverage data. Firstly, unlike other government schemes, data on PMUY connection is provided only at a state level and district-wise disaggregation is not available. Even at the state level, according to the results of the study commissioned by Petroleum Planning and Analysis Cell, connection has exceeded 100 per cent coverage in states such as Punjab, Haryana, Kerala, and Telangana. These connections do not necessarily indicate households are moving away from using solid fuels for cooking, but that they are possibly being used for other purposes.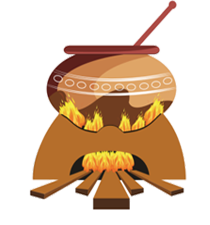 Did you know? Use of firewood and chips for cooking has fallen over the years from 78.2% in rural households in 1993-1994 to 67.3% in 2011-2012
What's next?

The government is now faced with the dual challenge of reaching the eight crore mark by 2020, as per the revised target, and also ensure that the beneficiaries continue to use LPG instead of biomass. For this to happen, it has to remove the barriers to adoption of LPG, especially among rural households.

High Initial and Recurring Cost

In a survey conducted in 2016, most of the states cited initial high cost as a major barrier to adoption of LPG. More than 90 per cent women in Chhattisgarh, Nagaland, West Bengal, Bihar, Uttar Pradesh and Rajasthan cited this issue. Both urban and rural households across states cited recurring cost as a major barrier.

Graph shows the percentage of surveyed households citing high initial cost as a barrier
Please select the barrier and hover over the graph to know more Long waiting time and sparse LPG distribution centres

The number of distributors has not kept pace with the increasing number of active LPG consumers. Between April 2016 and January 2018, the total number of active LPG consumers increased by 31 per cent, while total number of distributors went up by 9 per cent. Experts suggest that refilling be made a door-to-door facility and smaller cylinders be provided to families so that refilling becomes physically and economically feasible.

Graph shows the state-wise percentage of surveyed households citing long waiting time for LPG refill as barrier
hover over the graph to know more
---
Data source:

✸ Official dashboard of Pradhan Mantri Ujjwala Yojana, Last updated 31 May 2018
✸ EnviStats India, 2018
✸ Assessment report: Primary survey on household cooking fuel usage and willingness to convert to LPG, June 2016, Petroleum Planning & Analysis Cell, Ministry of Petroleum and Natural Gas
✸ Planning & Analysis Cell, PSU OMCs (IOCL,BPCL and HPCL)
✸ Census of India, 2011-12
✸ World Bank, Sustainable Energy for All (SE4ALL) database from WHO Global Household Energy database, 2018
✸ Ujjwala scheme: Are cleaner cooking fuels affordable and accessible?, Down To Earth
✸ What Has the Pradhan Mantri Ujjwala Yojana Achieved So Far?, EPW, Vol. 53, Issue No. 20, 19 May, 2018
✸ How Ujjwala Yojana is emerging as Modi govt's MGNREGS ahead of 2019, Mint, May 2018
✸ Lack of awareness regarding benefits of LPG hinders scheme's objective at rural level, First Post
✸ PM's plan for free gas connections is failing its objective – as government had been warned it would, Scroll



A scheme that was introduced to ensure better penetration of clean energy in the hinterlands of the country, reduce indoor pollution levels and in turn, the deaths it caused, has become successful in terms of numbers but not in intent. Transition from biomass to LPG cylinders has not happened in real sense. Expense, perception of LPG being unsafe and lack of awareness of its advantages are common reasons cited for low adoption. What does the future hold for this scheme?