It will be more than 160 years before a woman in Africa has the same chance of her baby
being born alive as a woman in a rich country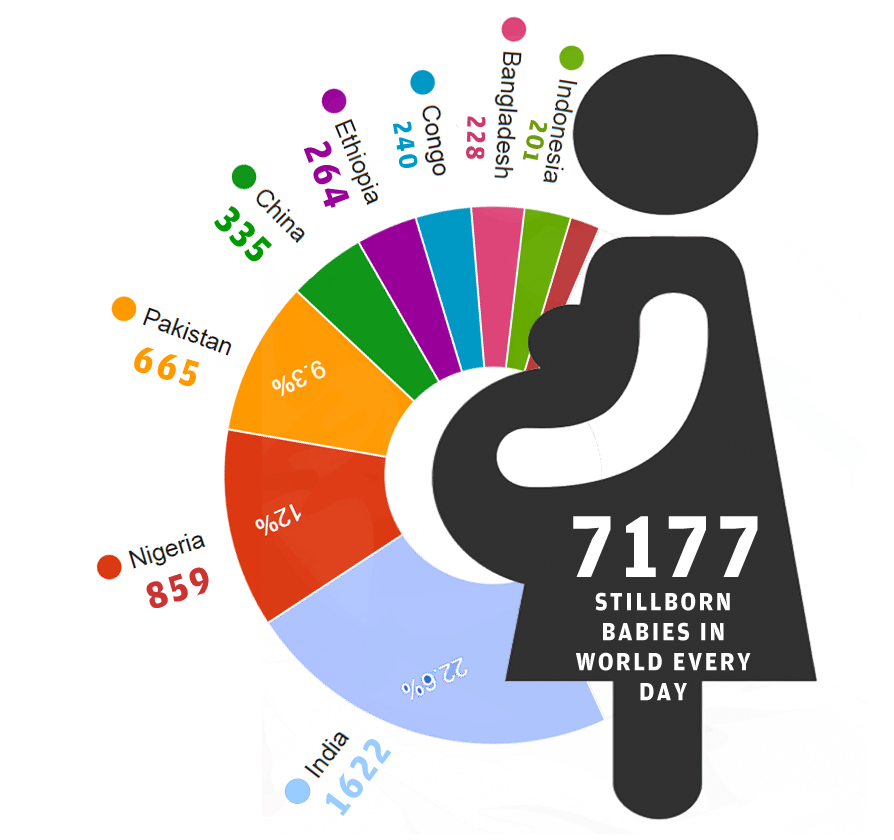 India has achieved the dubious distinction of topping 195 countries with the highest number of stillbirths in 2015 estimated at 5,92,090 in 2015, the rate was 22 in every 1,000 pregnancies in 2015 but because of its huge population, the country recorded the highest number of stillbirths around the world.

The other countries in the top ten include Nigeria, Pakistan, China, Ethiopia, Congo, Bangladesh, Indonesia and Tanzania. ⇒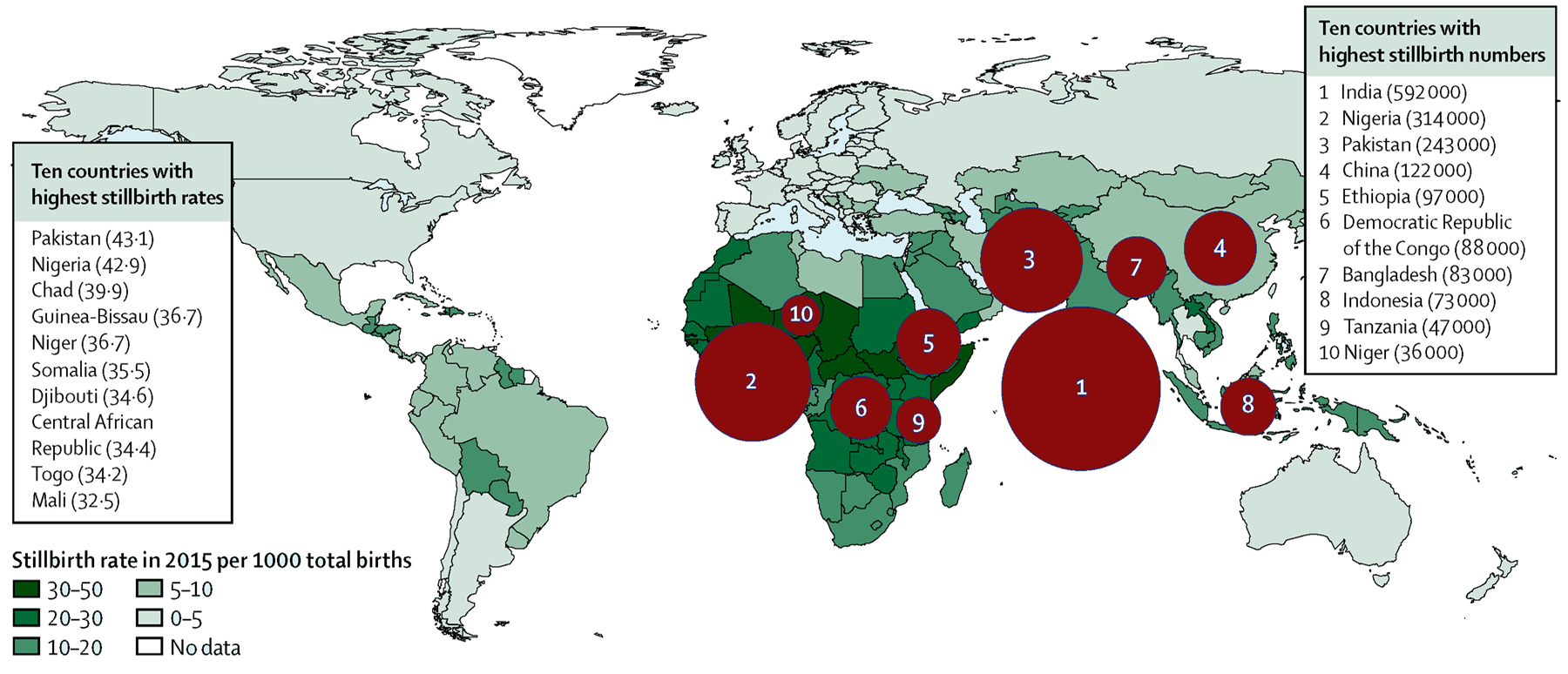 Map shows the top 10 countries with highest number of stillbirths and stillbirth rate
Data Source: Lancet

In a series of papers on ending preventable stillbirths published in the Lancet this week, researchers from the London School of Hygiene and Tropical Medicine found that the number of stillbirths has remained unchanged since 2011 and was still high.
The average stillbirth rate had fallen from 24.7 per 1,000 total births to 18.4 between 2000 and 2015, but was still way above the World Health Assembly (WHA)-endorsed target of 12 or fewer in all countries by 2030.


Map shows the countries with highest number of stillbirths in 2015 and 2000,
Data Source: Lancet

The drop is equivalent to a 2 per cent annual rate of reduction, slower than the progress on avoiding maternal, newborn and child deaths, which recorded yearly rates of reduction over the past 15 years at 3 per cent, 3.1 per cent and 4.5 per cent respectively.

Stillbirth is a condition where an infant dies in the womb, having survived at least the first 28 weeks of pregnancy. A neonatal death is one that occurs in the first 28 days of birth
Graph shows the top 10 countries with the highest number of stillbirths in 2015 and 2000 and stillbirth rate in 2015
Data Source: Lancet

Iceland has the lowest rate of stillborns, with 1.3 stillbirths per 1,000 total births. Denmark is next at 1.7 per 1,000 births. Finland, the Netherlands, Croatia, Japan, South Korea, Norway, Portugal and New Zealand also have low stillbirth rates.

Why Pakistan and India Have Such High Stillbirth Rates

The worst performer, out of 186 countries measured, was Pakistan with 43.1 stillbirths
per 1,000 total births. The rest of the bottom 10 were Nigeria, Chad, Niger, Guinea-Bissau, Somalia, Djibouti, Central African Republic, Togo and Mali.

The research team said upgrading the tested prenatal and delivery systems in the 75 most affected countries could avoid 1.1 million neonatal deaths, 823,000 stillbirths and
166,000 maternal deaths annually.


Map shows the stillbirth rate around the world in 2015 and 2000
Data Source: Lancet

"Stillbirth rates for women of South Asian and African origin giving birth in Europe or Australia are two-to-three times higher than white women," said a statement. Contrary to popular belief, data suggests that only 7.4 per cent of cases result from congenital abnormalities. Many disorders associated with stillbirths are modifiable.

These include maternal infections such as malaria (8 per cent) and syphilis (7.7 per cent). About 10 per cent of cases relate to non-communicable diseases, nutrition and lifestyle. In 6.7 per cent of cases, the mother was over 35 years of age. Pre-eclampsia and eclampsia contribute to 4.7 per cent of stillbirths, while 14 per cent relate to prolonged pregnancies. In Sub-Saharan African countries, especially those facing conflicts and emergencies, stillbirth rates are high.

Even in HICs, the risk of a stillbirth for a socio-economically disadvantaged woman is double that of her wealthier counterparts. Findings link substandard care with 20-30 per cent of all stillbirths in HICs.

How stillbirth cases could have been avoided

"We're not talking hi-tech [care], we're talking about taking blood pressure, taking urine [samples], making sure they don't have malaria," said Hannah Blencowe from the LSHTM, who stressed the important of labor monitoring as half of all stillbirth cases occur during labour.
"Half of the annual deaths could be prevented with improved care for women and babies during labour and childbirth, and additionally, many more lives could be saved with effective care during pregnancy," she says. "We already know which existing interventions save lives."

The new research includes the first global analysis of risk factors associated with stillbirth, underlining that many deaths can be prevented by;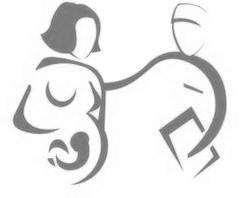 ⇛ Treating infections during pregnancy – 8.0 per cent of all stillbirths can be attributed to malaria, increasing to 20 per cent in sub-Saharan Africa and 7.7 per cent of all stillbirths are associated with syphilis, increasing to 11.2 per cent in sub-Saharan Africa



⇛ Tackling the global epidemics of obesity and non-communicable diseases, notably diabetes and hypertension – at least 10 percent of all stillbirths are linked to these conditions


⇛ Strengthening access to and quality of family planning services – especially for older and very young women, who are at higher risk of stillbirth.



⇛ Addressing inequalities – in high-income countries, women in the most disadvantaged communities face at least double the risk of stillbirth.

The research also highlights the psychological, social and economic impacts of stillbirth on parents, families, caregivers, and countries.

Education, alleviation of poverty and improved access to health care, especially timely, culturally appropriate antenatal care, are recommended. The researchers call for a systematic classification and research into the causes of stillbirth in HICs, as well as interventions to help women to begin pregnancy with a normal bodyweight.