Scroll down to continue
The strongest El Niño in 35 years, which has seen long droughts, scorching temperatures, water shortages and flooding around the world, is officially over. But the consequences of a second year of extreme weather will be seen for many more months in the form of food shortages for nearly 100 million people, the loss of income for millions of poor farmers and higher prices in cities, say the UN and leading meteorologists.

Food shock
The impact of El nino on food security and agricultural production has been particularly severe in 2015-16. The effects of the drought and resulting food insecurity are also likely peak during the first quarter of 2017 warns FAO

In Africa, FAO estimates that more than 60 million people, two thirds of them in East and Southern Africa, are facing food shortages because of droughts linked to El Niño, a climate phenomenon that occurs when water in the Pacific Ocean becomes abnormally warm.

The SADC Secretariat recently released a detailed report on how the El Nino-induced drought has devastated livelihoods and the quality of lives across the region.

Southern Africa had a three-month "window of opportunity" before the 2016-2017 planting season to take urgent measures to prevent millions of rural families from becoming dependent on humanitarian assistance in 2018, according to FAO.

Click on

icon on map to see how the El Nino-induced extreme weather events have devastated livelihoods and quality of lives »

According to the report, member states are currently conducting their annual vulnerability assessments. The results would demonstrate the effect of drought on food and nutrition security and vulnerability situation as a whole. Below is an update of SADC member states that have been affected by drought and the contingency measures they have put in place.

El Nino impact
Source: World Food Programme (WFP)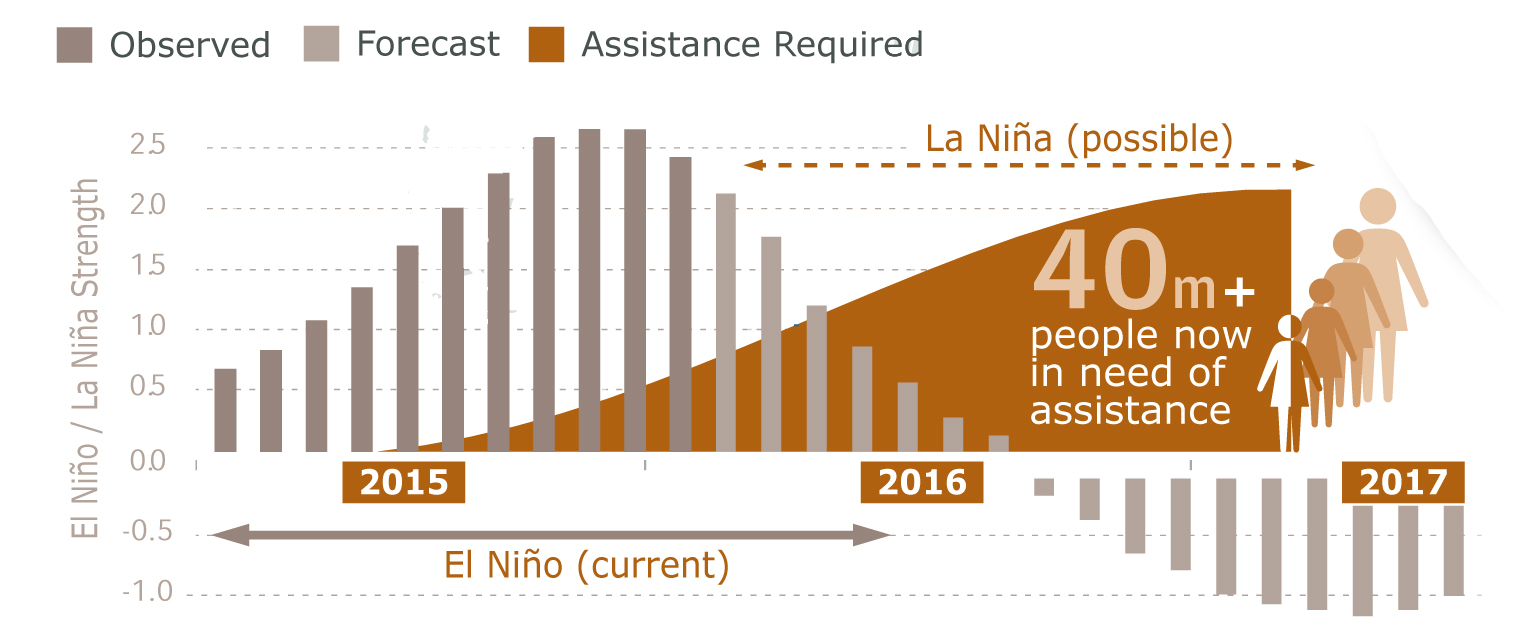 Source: World Food Prgramme (WFP)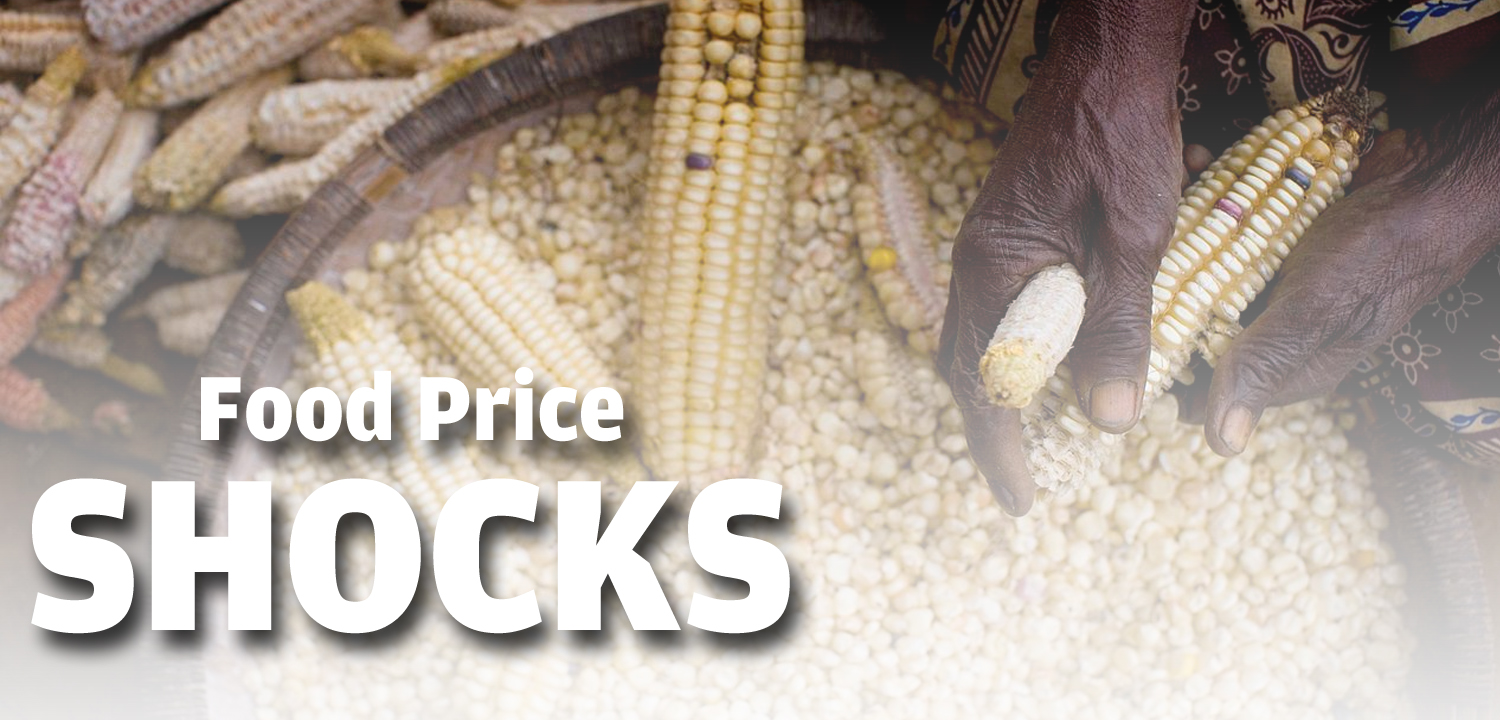 FAO Global Food Price Index (1990 - 2016)
The FAO Food Price Index is a measure of the monthly change in international prices of a basket of food commodities. It consists of the average of five commodity group price indices, weighted with the average export shares of each of the groups for 2002-2004.

Source: FAO

The SADC report says that four member states have already declared national drought emergencies (Lesotho, Malawi, Swaziland and Zimbabwe). South Africa has declared a drought emergency in seven of the country's nine provinces. Mozambique declared a 90-day institutional red alert for some southern and central areas.

15 African countries are affected the most by Food Price Shocks
according to GDP Impact, shows UNEP report
GDP effect is the change in a country's real GDP, expressed as a percentage of the total, due to a rapid doubling in food commodity prices.
Move mouse on graph bars to see details »
Source: How Food Prices Link Environmental Constraints to Sovereign Credit Risk, UNEP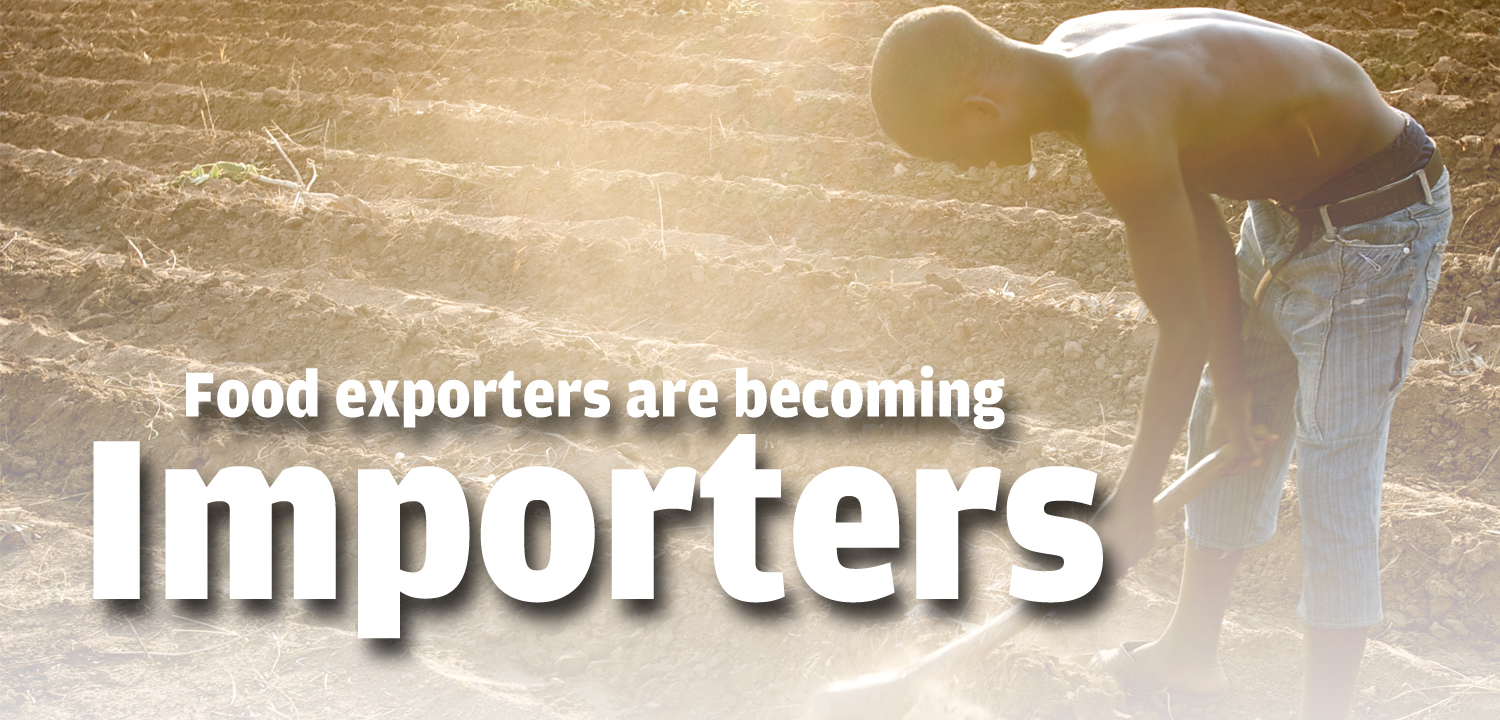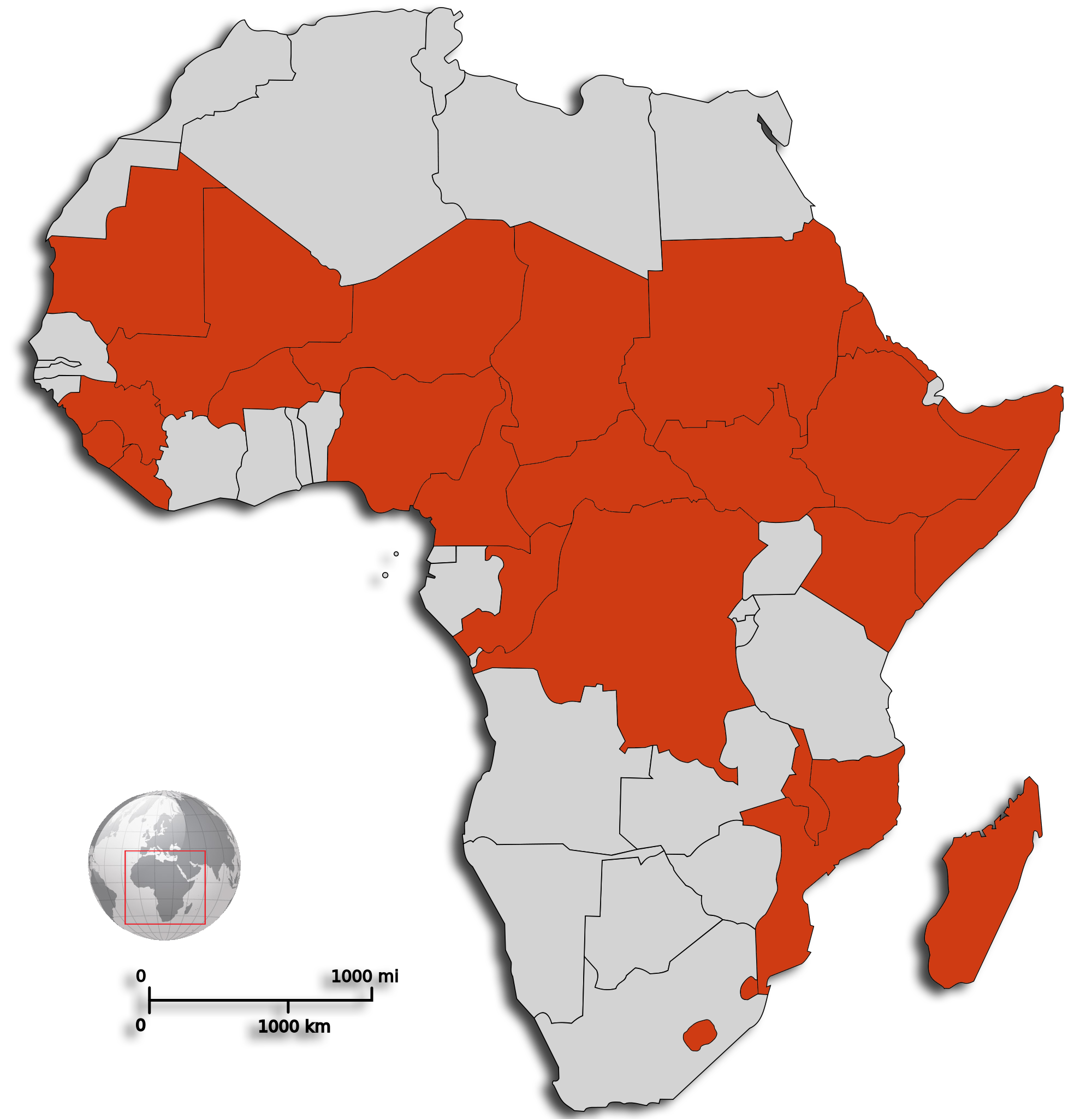 El Nino destroying crops in Africa
South Africa, for the first time since 2004, imported white maize from the United States after the domestic crop was scorched by drought

The early aggregate outlook for the 2016 cereal crops points to a fall in production, mostly resulting from expected drought-reduced harvests in North and Southern Africa. In Central and West Africa, 2016 early crop prospects are uncertain, largely due to unfavourable weather and conflicts, while the overall outlook improved in East Africa, on account of recent favourable rains that eliminated early seasonal dryness.



Countries need external food assistance, Data Source: UNEP, June 2016

Meanwhile, the Famine Early Warning Systems Network (FEWSNET) said the El Nino-induced drought, which overshadowed the 2015-2016 farming season, destroyed crops and left the region saddled with a cereal deficit of between 6 and 8 million metric tonnes. In Zimbabwe, Swaziland, Mozambique, Malawi, Lesotho and Madagascar, more households would enter the Integrated Food Security Classification Phase 3 of "acute" food insecurity throughout 2016.



World cereal production (million tonnes), Data Source: FAO

Households in these countries are facing consumption gaps because they did not produce much staple this season and labour incomes are well-below average, constraining food access for households that are relying on market purchases for consumption much earlier than usual. For households in many drought-affected areas in the region, this is the second or third consecutive year of poor production.

Southern Africa
Cereal production forecast for 2016 at a significantly reduced level

In Southern Africa, where the 2016 main season crop is being harvested, the aggregate cereal production, affected by sharply-reduced seasonal rains and higher-than-normal temperatures linked to El Niño, is anticipated to fall by 7 per cent compared to the already weather-depressed 2015 output. Sharp declines are expected in Lesotho, Malawi and Zimbabwe.

Move mouse on graph bars to see details »
Data Source: FAO, 2016

Maize, the main cereal staple, is forecast to decline by 19 per cent from the already reduced 2015 output to 16.7 million tonnes. Overall, the sub-regional 2016 cereal output is forecast by FAO at 22.5 million tonnes, almost 15 per cent lower than the below-average 26.3 million tonnes produced in 2015. The decline in 2016 is mainly the result of a severe and prolonged El Nino-induced drought that afflicted all countries of the sub-region, with stronger impacts in southern parts.

The bulk of the production decline in 2016 stems from South Africa, where maize production is forecast at 7.3 million tonnes, 31 per cent lower than 2015's below-average level. Substantial decline is also expected in Malawi and Zimbabwe, following poor outturns in 2015.

Kenya has declined Malawi's request to buy 1.2 million tonnes of local maize to meet shortage. This is the first time Malawi has requested for maize from Kenya, which itself is a food-deficit country

In Angola, prolonged dryness in southern provinces caused extensive crop losses, but Zambia generally received beneficial rains in 2016, following early seasonal dryness. Maize production is set to increase by 7 per cent to 2.9 million tonnes.

East Africa
Favourable rains in April and May boost yield prospects of 2016 main season crops
In southeastern and coastal Kenya as well as in some agro-pastoral areas of southern Somalia, persistent dry conditions are expected to constrain yields. Delayed onset of the rainy season by two to three weeks reduced the length of the growing period and rains were often poorly distributed, with likely negative impacts on yields. Severe dry weather conditions in the southern Kenyan counties of Kilifi, Tana River and Kitui caused extensive damage to the maize crop.

Data Source: FAO, 2016

After a substantially delayed onset of the March to May rainy season, planting of the 2016 main season crops was concluded at the beginning of May in Somalia ("gu"), Kenya ("long rains"), Ethiopia ("meher" long cycle crops, namely maize and sorghum), southern South Sudan ("green belt"), northern United Republic of Tanzania ("masika") and the Karamoja region in northeastern Uganda.

In South Sudan, prices of cereals have continued to soar in recent months due to economic downturn and widespread insecurity. In Juba's market, prices of sorghum and maize in April registered new highs, about three to four times above their values in 2015.

In Ethiopia, most food-insecure people are concentrated in eastern areas of Oromia, Amhara and Tigray regions as well as in Afar and northern Somali regions

In Somalia, most northeastern areas, especially Sanaag, Sool and Bari regions, experienced severe drought conditions as "gu" rains started only during the third dekad* of April, thus extending the harsh "jilaal" (January-March) dry season that followed a poor "deyr" (October-December) rainy season.

* 10 days (Dekadal)

Central Africa
Persistent insecurity continues to adversely affect prospects for 2016 cereal crops in the CAR

The 2016 main season maize crops, sown from March, will be harvested from July in central and southern parts of Cameroon and the CAR.

Remote sensing data indicates an uneven temporal distribution of precipitation, which may have negatively affected crop-growing conditions in some central and southern areas. In the CAR, despite above-average precipitation from March until the first dekad of May, crop production is expected to be adversely impacted by the widespread conflict, which caused the loss and depletion of already inadequate household productive assets and resulted in shortages and soaring prices of inputs.
Data Source: FAO, 2016

In the Democratic Republic of Congo (DRC), abundant precipitation was received over most cropping areas, thus benefiting vegetation conditions. However, the heavy rainfall, linked to the strong El Nino episode, triggered widespread floods in 10 out of 26 provinces, damaging about 5,500 hectares of crop land. Destruction of food stocks has also been reported.

In the Republic of Congo and Gabon, vegetation conditions were favourable in most cropping areas. However, the bulk of the national cereal utilisation requirement is satisfied with imports.

Continued civil insecurity in the CAR and in eastern DRC has resulted in massive population displacements and hindered access to food for the affected population. As of April 2016, about 467,000 refugees from the CAR have sought refuge in neighbouring Cameroon (259,100), the DRC (112,800), Chad (66,900) and the Congo (28,600), straining the already limited resources of the hosting communities. In the CAR, the inflation rate, which surged to 12 per cent in 2014, declined to 5.4 per cent in 2015 and is forecast to decrease further to 4.9 per cent in 2016.

North Africa
Volatile food supply drives inflation

Large swathes of land in Morocco and western Algeria have been adversely affected by drought conditions. In addition, heavy showers in mid-May slowed harvesting operations in Algeria and Tunisia, following unusually high temperatures in late April that had accelerated crop development. Pre-harvests forecasts indicate an overall below-average 2016 cereal crop at the sub-regional level, driven by an expected 5-million-tonne fall in Morocco's wheat output compared to 2015's record harvest.


Data Source: FAO, 2016

In Algeria and Egypt, the cereal harvests are expected to be on par with 2015 and the five-year average, while a small production increase is foreseen in Tunisia.

FAO's preliminary forecast puts the sub-region's aggregate wheat output at 16.3 million tonnes, about 23 per cent down from 2015's record crop and 16 per cent lower than the five year average. The barley crop is put at about 3 million tonnes, 43 per cent lower than 2015 and 32 per cent below average.

In Egypt, the annual food and beverage inflation rate in April 2016 reached about 12 per cent, driven by volatile food supply and vegetable prices. By contrast, in Algeria, the March 2016 food and beverage inflation rate stood at 1 per cent on yearly basis, compared to 2 per cent in January 2016. Similarly, in Morocco, food inflation increased by 3.7 per cent in the 12 months to March 2016, up from -0.2 per cent in January 2016.

West Africa
Unfavourable early prospects for 2016 cereal crops
Early prospects for 2016 cereal production are unfavourable in coastal countries due to irregular and below-average precipitation in several areas, notably in Liberia, parts of eastern Guinea, Ivory Coast, and western Ghana. These rainfall trends are in line with the joint forecast by the African Centre of Meteorological Applications for Development (ACMAD) and the Agrhymet Centre. According to the forecast, there is an increased probability of normal to below-normal rainfall between April and June over southeastern Ivory Coast and southern Ghana and Togo.

Data Source: FAO, 2016

Latest estimates put the sub-region's aggregate 2015 cereal output, consisting mostly of coarse grains, at about 59 million tonnes, 2 per cent above the previous year's bumper crop and 8 per cent higher than the five-year average.

In the Sahel belt, reflecting adequate supplies from good harvest in 2015, prices of locally-produced millet and sorghum, the main staples, were either stable or falling in recent months. Prices have been following a downward trend in Burkina Faso, Mali and Niger. Similarly, in Chad, coarse grain prices have remained lower than a year earlier in most markets in spite of the seasonal increase observed in March. By contrast, in Nigeria, prices of coarse grains continued to increase sharply, with those of sorghum reaching record highs in March.

By contrast, in Nigeria, prices of coarse grains continued to increase sharply, with those of sorghum reaching record highs in March.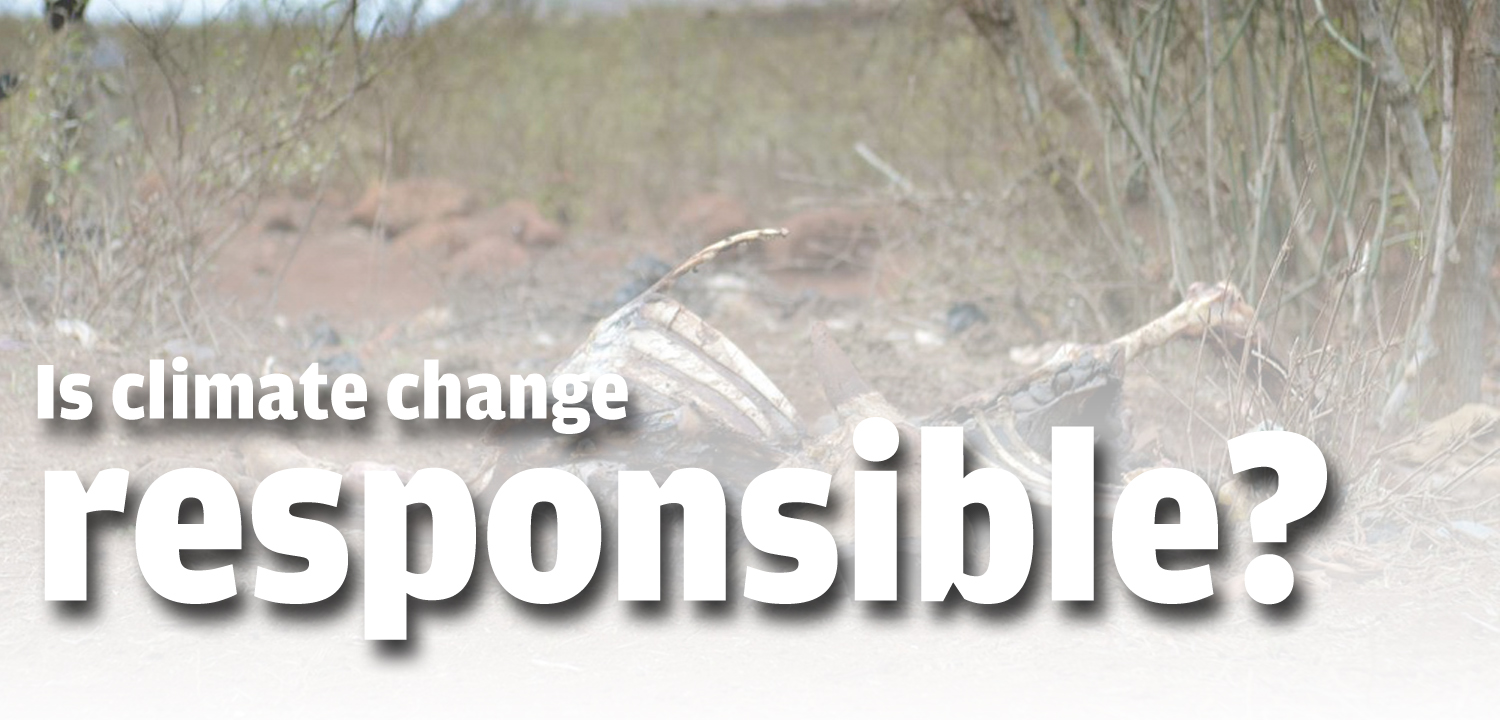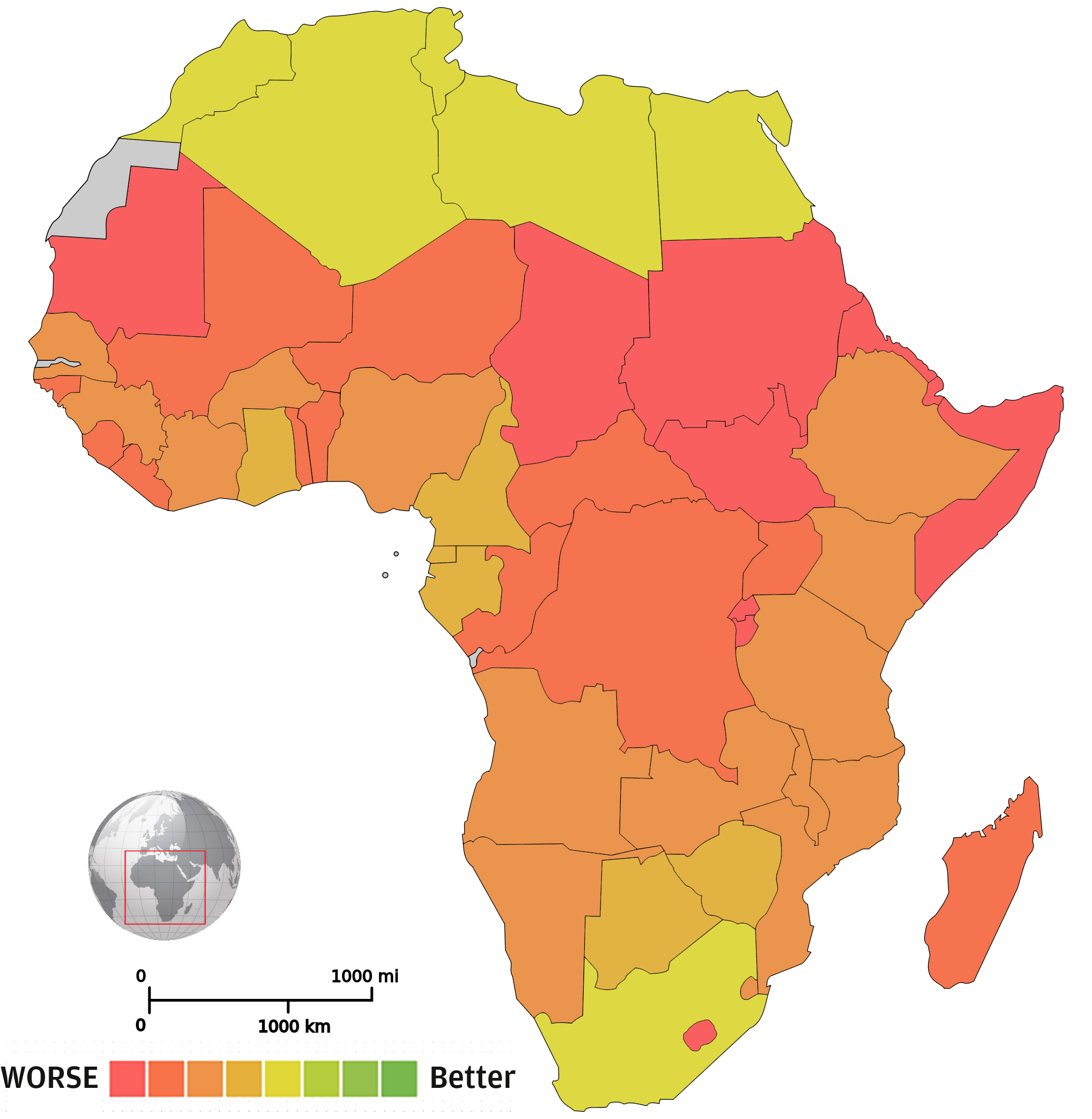 Is climate change responsible for Global and African Food Security
Both 2014 and 2015 set the record for hottest calendar year since we began measuring surface temperatures over 150 years ago, and NASA has said that 2016 is the hottest year so far.

Benin and Mozambique are more than twice as vulnerable to the impacts of climate change as the UK or the US according to the Notre Dame Global Adaptation Index (ND-GAIN). This index measures a country's exposure and capacity to adapt to climate change and gives each country a score.

We're into a new normal where it is no longer El Niño – it is El Niño affected by climate change "
-- Mary Robinson
The UN Special Envoy on El Niño

The impact of drought has been felt acutely this season over southern Africa, as El Nino hit hard. Perhaps, this is what we might expect under future climate change conditions and so we had better learn how to prepare for it: more frequent years that record less rainfall than usual, along with the associated crippling impact on livelihoods and the economy.

A failure to tackle problems, including water scarcity, land degradation and climate change, is making the food sector more vulnerable and the result is a higher risk of price shocks, says the recent UN analysis.

Data source: ND-GAIN Country Index, Vulnerability and Readiness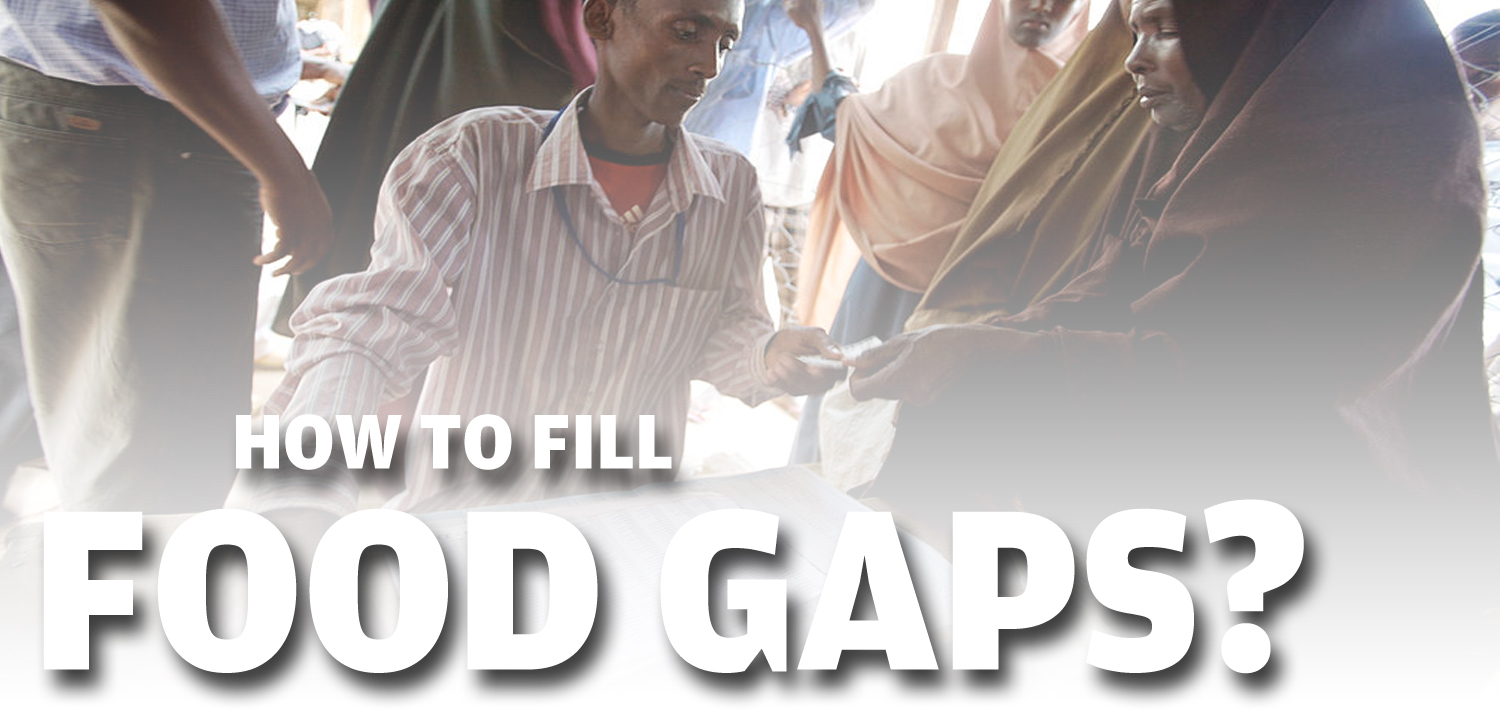 The El Nino-induced drought comes after drought in the 2014-15 season. In 2015, farmers were able to cope with it better because of the previous season's bumper harvest, but this year, their reserves have been exhausted.
US $2.7bn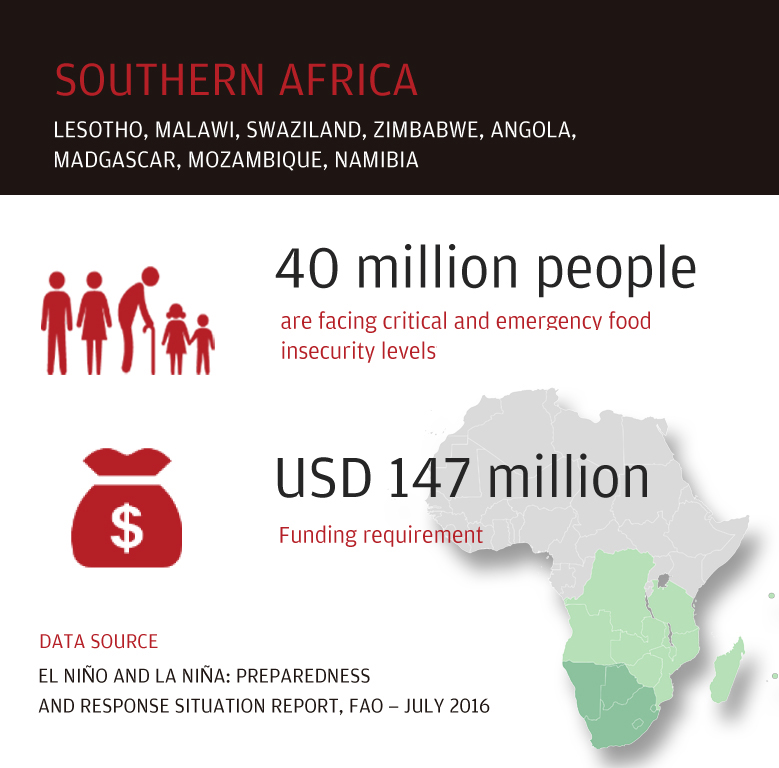 Given that drought events are frequently cyclical in the region, efforts will focus on building resilience as well as the upcoming planting season. FAO is supporting 8,000 households in Zimbabwe to access livestock survival feed and drought-tolerant seeds of sorghum and cowpea in Mangwe, Matobo, Beitbridge, Gwanda and Chivi.

In Malawi, support has included vaccinating small livestock, providing early maturing varieties of drought-resistant cereals and irrigation support to around 42,000 households in the six districts more prone to erratic rainfall and dry spells. In Namibia, FAO is supporting the government in the rehabilitation of boreholes and training farmers on conservation agriculture in Lesotho and Mozambique.



Cereal import requirements of low-income and food-deficit African countries
(2016 estimates in thousand tonnes)
Refers to food aid deliveries to WFP country oces, bilateral transfers, and deliveries by other UN agencies and NGOs.
Estimates based on information as of May 2016, Data Source: FAO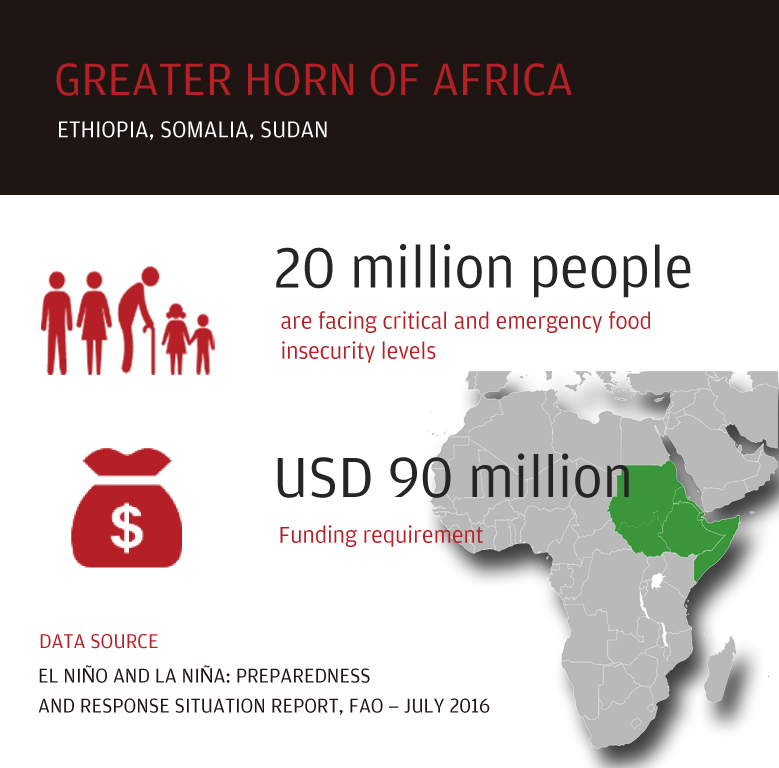 Humanitarian needs in Ethiopia have tripled since the beginning of 2015. The drought has caused successive crop failures and widespread livestock deaths, and some 10.2 million people remain in need of humanitarian food assistance. Over one-third of Ethiopia's districts are officially classified as facing a food security and nutrition crisis. The 'belg' (spring) rains were at first delayed and erratic, but became abnormally heavy by April, causing floods and landslides in six regional states. Farmland was submerged, livestock killed and key infrastructure damaged, hindering the delivery of humanitarian aid.

In Somalia, nearly 4.7 million people, 38 per cent of the population, are food insecure.

Drought emergencies have been declared in Puntland and Somaliland. South Somalia experienced flooding in May, affecting about 100,000 people, with 72,000 displaced from riverine areas. In Sudan, 4.6 million people are acutely food insecure (excluding West and East Darfur) as a result of El Nino. Below-average agricultural production in 2015, rising staple food prices, very poor pasture conditions and continued conflict in Greater Darfur, South Kordofan and Blue Nile States are leading to much higher food insecurity in 2016.

Is climate- smart agriculture a solution
But apart from giving first aid, what plans does the international community have against los Niños? National as well as UN representatives agree
that a more long-term strategy is needed.



"he main thing that we have to do is help them finding a type of agriculture that is more resilient to this kind of climate shock – which might involve having different seeds, dry resistant seeds for example, or it might involve different irrigation systems to help people work through times of droughts, it might involve insurance schemes as long as they are targeted at the very poorest people

It is essential that words are turned into operations: In 2017, the farmlands might recover, but the next El Niño could start three years from now.

The way ahead
Africa drought conference is expected to set in motion the strategic framework for enhancing resilience to drought


The majority of African countries continue to be inadequately prepared to cope with droughts, which are set to become more frequent with climate change. In follow up to its role as UNCCD COP11 President, the Ministry of Environment and Tourism, Namibia is organising African Drought Conference.This follows the outcomes of the high level meeting on national drought policies (HMNDP) held in Geneva in 2013, and will focus on identifying the specific needs of African countries in the area of effective drought mitigation, with a view to developing a strategic framework for enhancing resilience to drought events on the African continent.

This conference is expected to set in motion the process to develop a strategic framework for enhancing resilience to drought at the African level that will contribute to poverty alleviation, economic development and enhancement of environmental and human well-being

✿ Data Courtesy: FAO, UNEP, UNICEF and Relief Web

✿ Text and Analysis: Lalit Maurya, Subhojit Goswami and Kiran Pandey

✿ Image Courtesy: UNICEF, Wikipedia, FAO and Oxfam International

BACK TO TOP