Weather-related disasters becoming more frequent, occur almost daily
The report and analysis compiled by UNISDR and the Belgian-based Centre for Research on the Epidemiology of Disasters (CRED)—entitled The Human Cost of Weather Related Disasters —demonstrates that since the first UN climate change conference (COP1) in 1995, 606,000 lives have been lost and 4.1 billion people have been injured, left homeless or in need of emergency assistance, as a result of weather-related disasters including floods, storms, heatwaves, and droughts.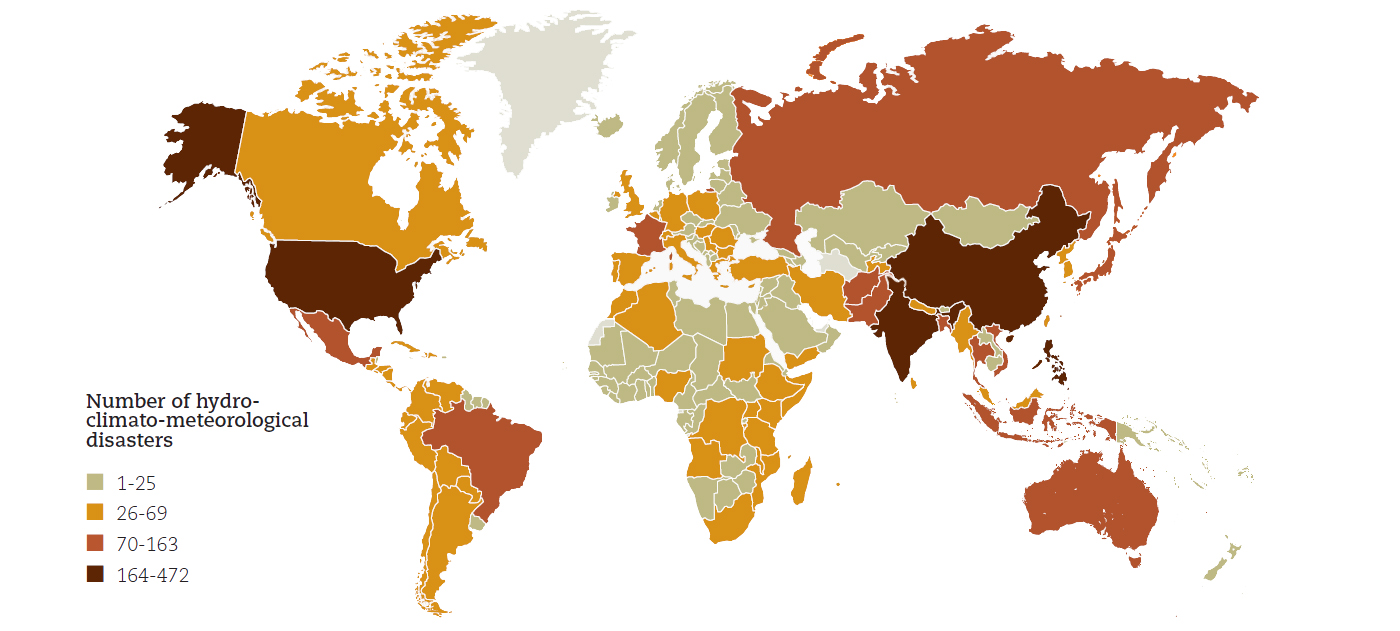 And the numbers have been climbing along with global temperatures, as weather-related disasters occurred almost daily over the last decade. In total, an average of 335 such disasters were recorded per year between 2005 and 2014, an increase of 14 percent from 1995-2004, and almost twice the level recorded during 1985-1995.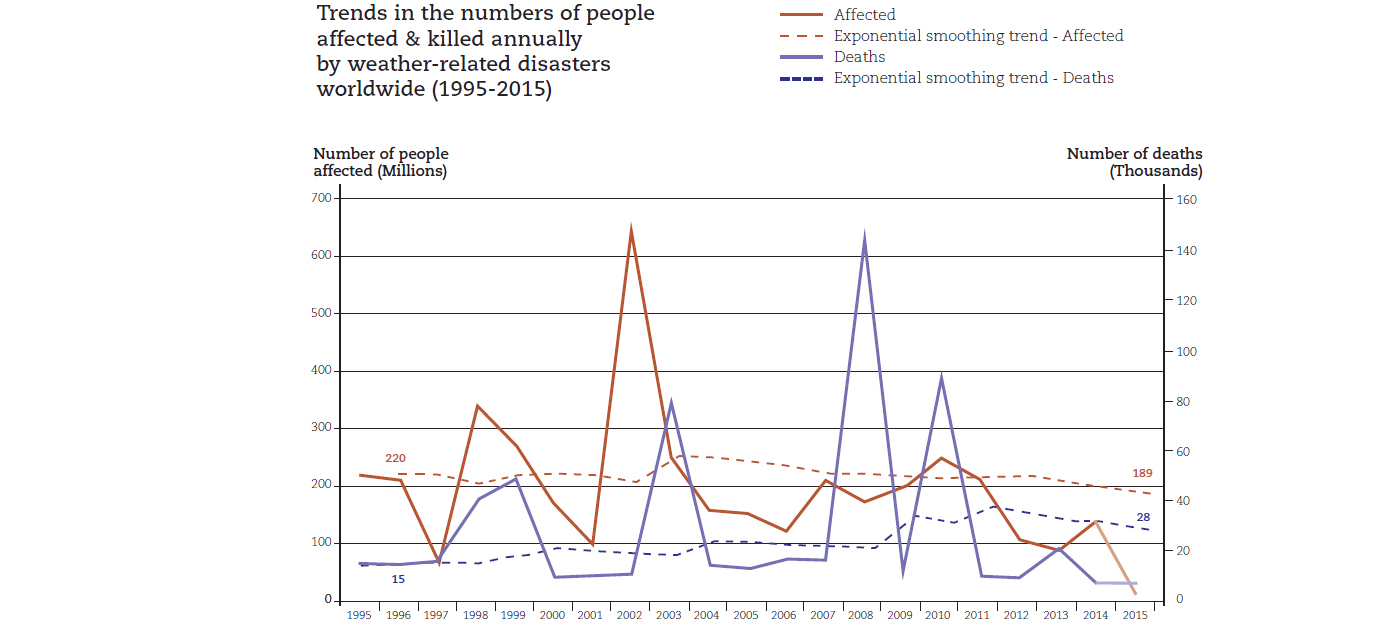 The report highlights that floods accounted for 47 percent of all weather-related disasters from 1995-2015, affecting 2.3 billion people and killing 157,000. Storms were the deadliest type of weather-related disaster, accounting for 242,000 deaths or 40 percent of the global weather-related deaths, with 89 per cent of these deaths occurring in lower-income countries.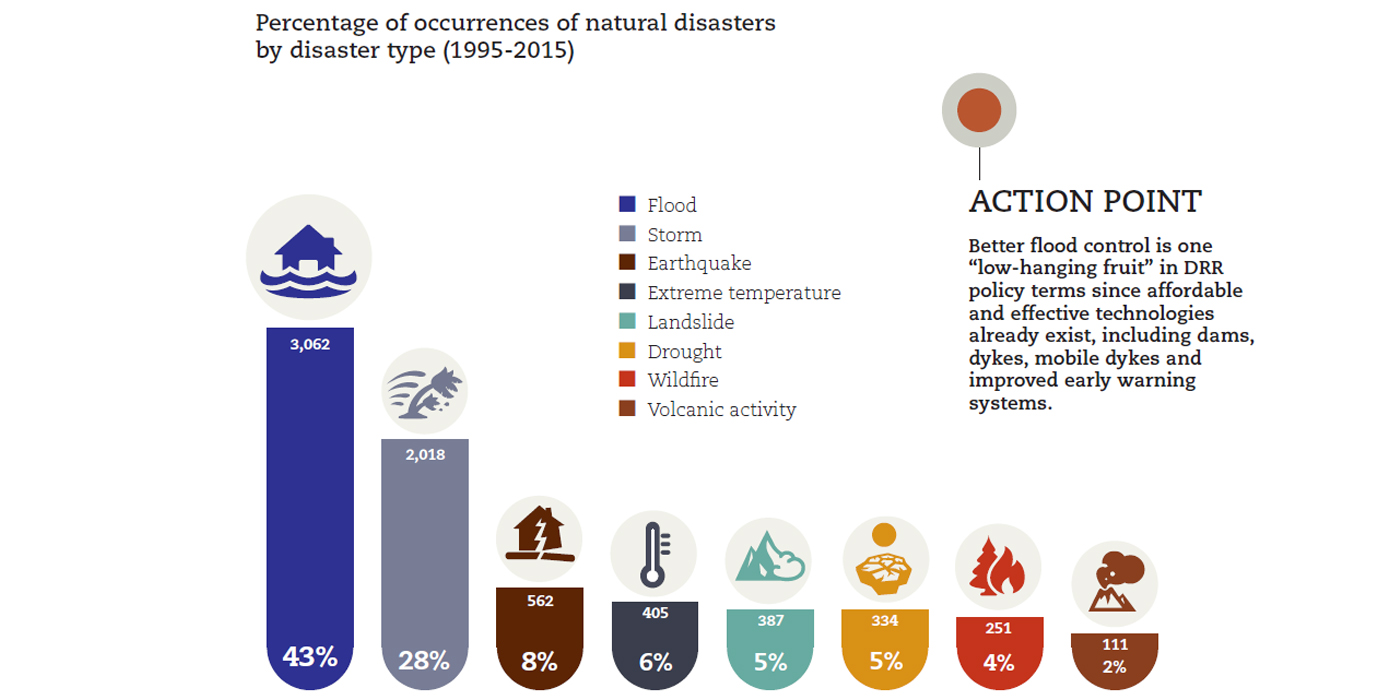 Overall, heatwaves accounted for 148,000 of the 164,000 lives lost due to extreme temperatures, with 92 per cent of deaths occurring in high-income countries.

Finally, drought reportedly affects Africa more than any other continent, 136 events there between 1995 and 2015, including 77 droughts in East Africa alone. The report also recommends that there needs to be improved data collection on indirect deaths from drought.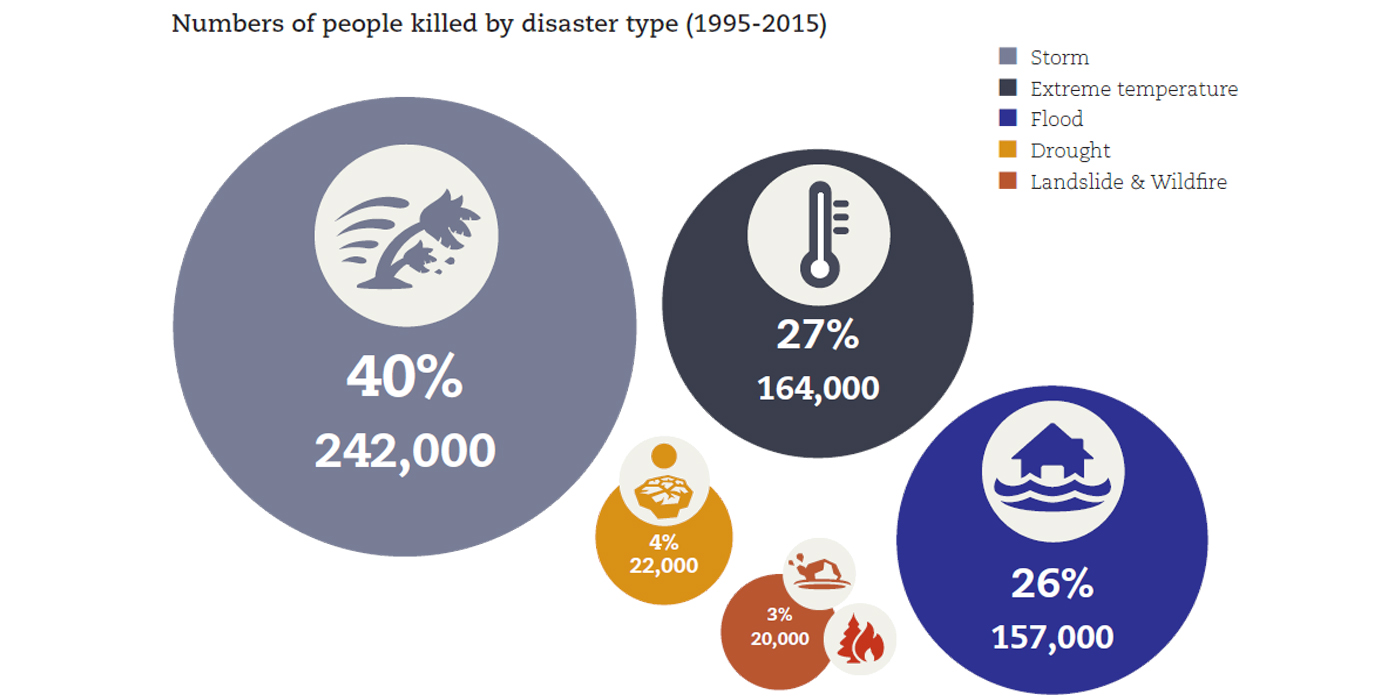 Asian population giants, China and India, dominate the league table of countries most affected by weather-related disasters. Together these two nations account for more than 3 billion disaster-affected people between 1995 and 2015. That is 75% of the global total of 4.1 billion people. Brazil is the only country from the Americas appearing in the top 10 list, and Kenya and Ethiopia are the only African nations.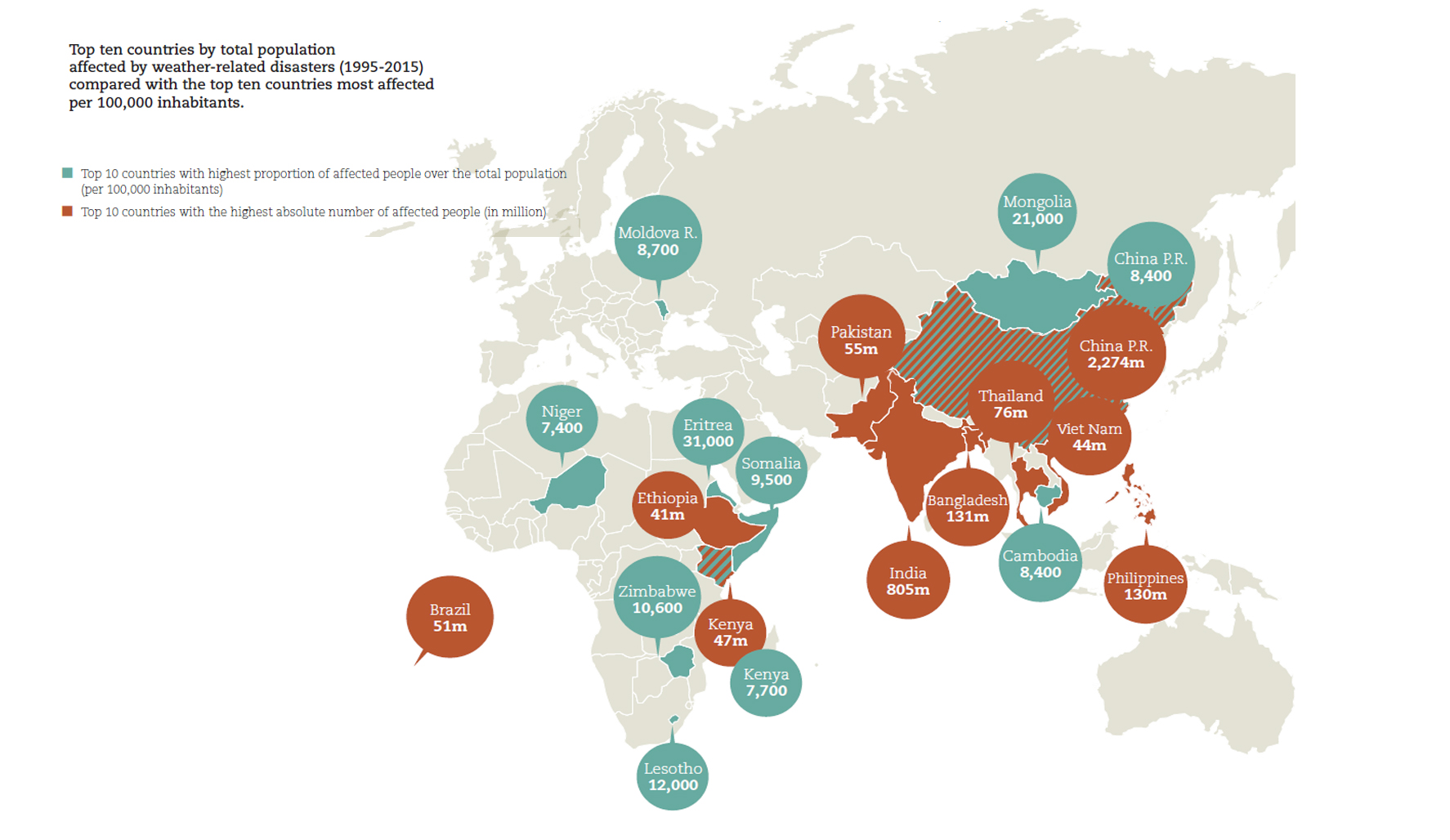 The countries hit by the highest number of weather-related disasters over the past decade were the United States, with 472, China with 441, India with 288, the Philippines with 274 and Indonesia with 163.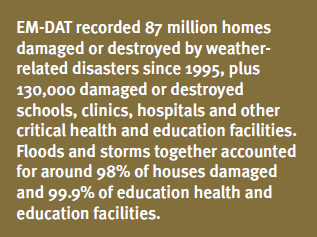 Numbers of people affected per 100,000 head of population (or the percentage of the affected population), the global picture looks very different, however, with
six of the most-affected countries now in Africa, and just three in Asia. Moldova is the only European country appearing on either list, ranking sixth in the standardized league table due mainly to a storm in 2000 that affected 2.6 million people out of a total population of 3.6 million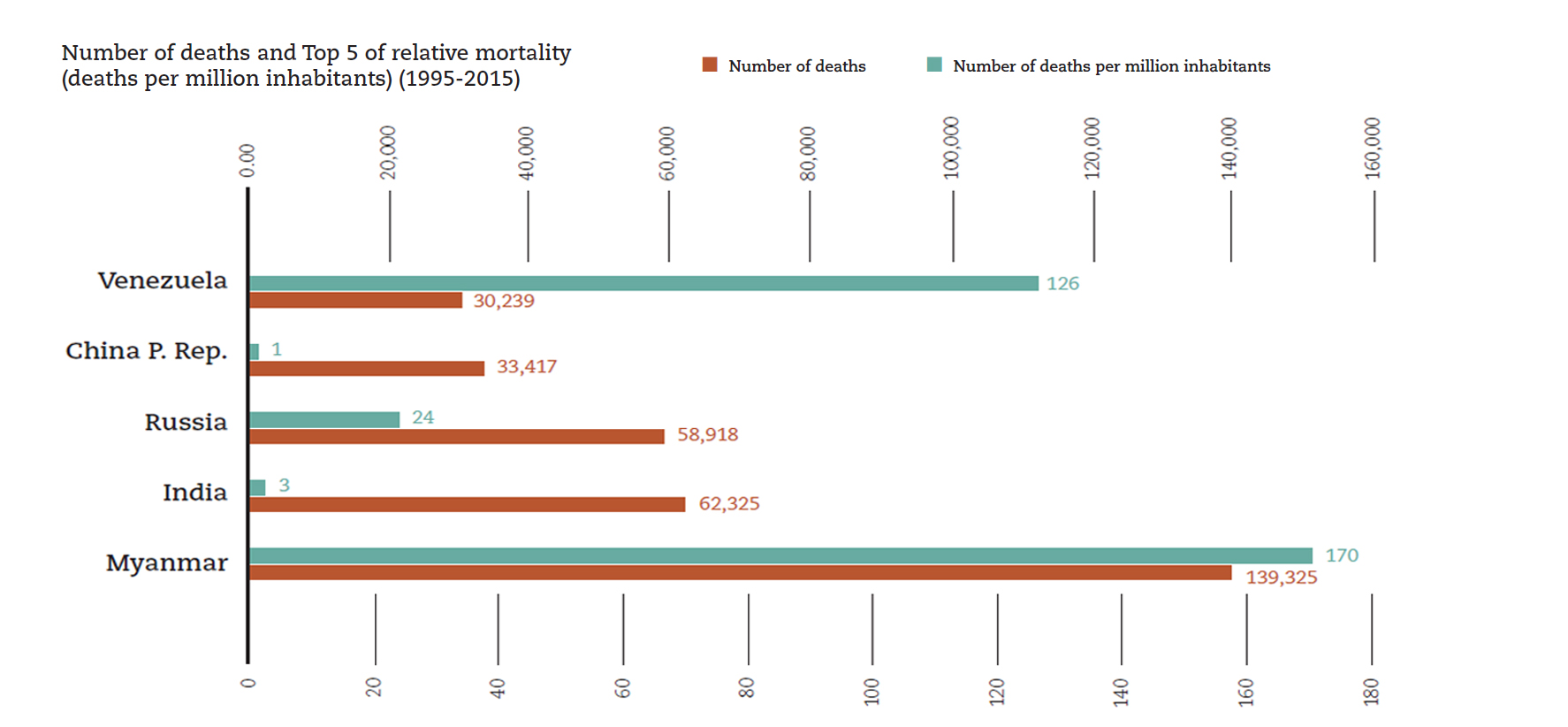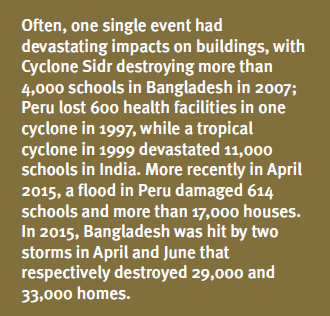 India, a key trigger was the 1999 cyclone which claimed around 10,000 lives in Odisha State; casualties in two recent major cyclones were minimal. China has meanwhile reported that it has succeeded in keeping economic losses within a target of 1.5% of GDP.

EM-DAT data show that when countries are grouped together by income, the highest numbers of weather-related disasters occurred in lower-middle-income countries. These nations suffered 1,935 of all recorded events or 30% of the global total at a cost of 305,000 lives lost, i.e. half of all deaths reported between 1995 and 2015.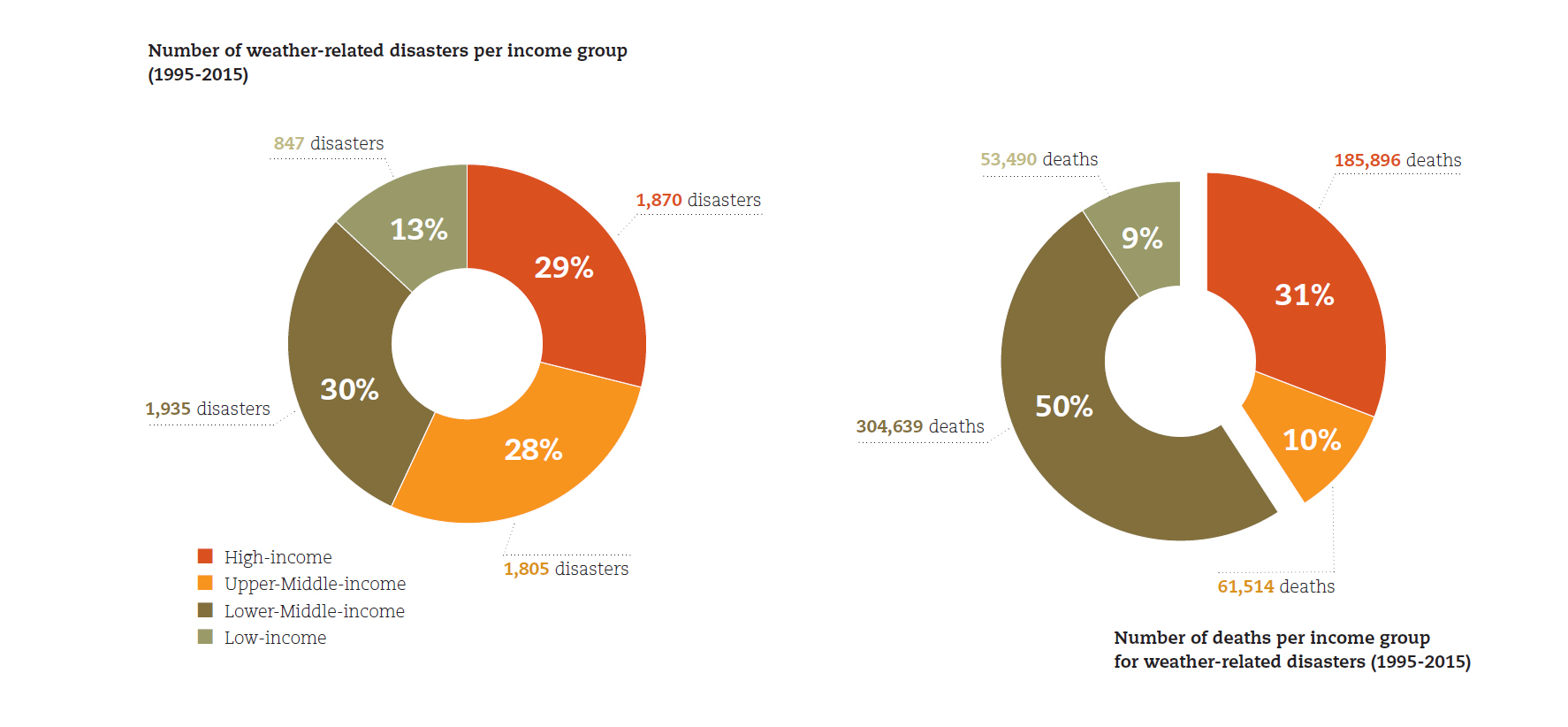 The heavy loss of life in lower-middle-income countries is also reflected in the high average number of deaths per disaster (157). Once again, the heavy toll of Cyclone Nargis on Myanmar (a lower-middle-income nation) had a major impact on these mortality statistics.

Counting the economic costs of disasters

EM-DAT recorded losses totaling US$ 1,891 billion from weather related disasters between 1995 and 2015, equivalent to 71% of all losses attributed to natural hazards, data show that storms cost more than any other type of weather-related disaster in terms of recorded lost assets (US$ 1,011 billion), followed by floods (US$ 662 billion).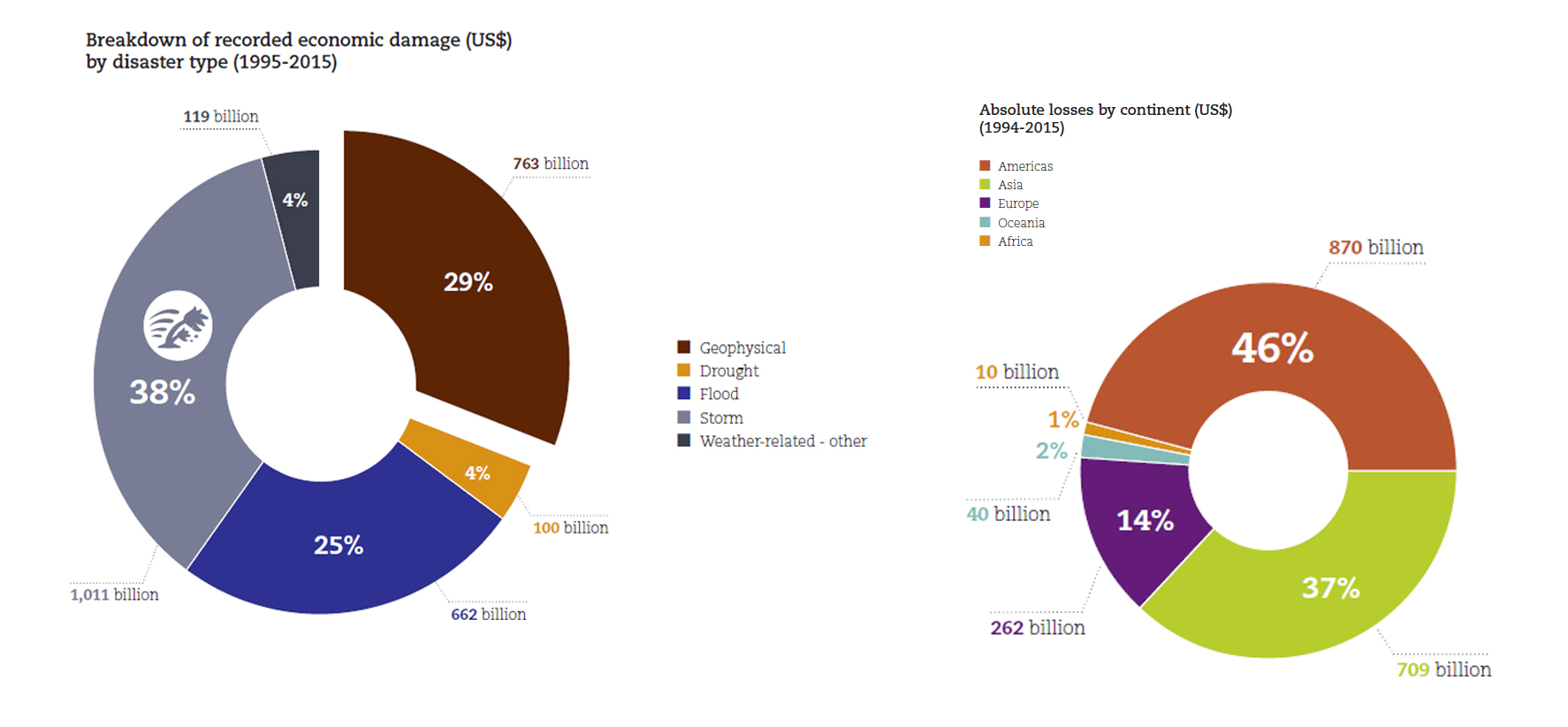 According to UNISDR's 2015 Global Assessment Report on Disaster Risk Reduction14, expected annual average losses (AAL) from earthquakes, tsunamis, tropical cyclones and river flooding are now estimated at US$ 314 billion in the built environment alone. The report, estimates that economic losses from disasters are now reaching an average of US$ 250 billion to US$ 300 billion each year.

Data on economic losses from natural disasters is available for just 36% of disasters recorded from 1995 to 2015. Records are particularly partial from Africa, where losses were reported from just 12.6% of events. Such gaps in our knowledge should be of international concern at a time of limited financial resources and competing priorities. With weather-related disasters set to increase due to climate change, it is essential in our view to help lowerincome countries to estimate their losses effectively in order for them (and the international community) to better understand which types of disaster cause the greatest losses.