Most of the remaining long free-flowing rivers now remain restricted to remote regions of Arctic and of the Amazon and Congo basins
Rivers have been the lifeline of modern human civilisations since yore. Ironically human activities threaten the flow of the same rivers. Indiscriminate building of dams have drastically reduced river connectivity across the globe.
Now less than a quarter of rivers running more than 1,000 kilometres flow uninterrupted into oceans, according to a new study. A little more than a third of such rivers run freely along their course.
Dams and their reservoirs emerge the big villain, fragmenting rivers and affecting their flows. The world already has 60,000 large dams, with 3,700 more being planned, points out the study that used satellite images and other data to examine the rivers.
Most of the rivers still flowing uninterrupted are in remote areas — the Arctic, the Amazon and Congo basins. Rivers in densely populated parts of the world were hardly free-flowing anymore; notable exceptions being the Salween (2,815 kilometres and Irrawady 2,210 km).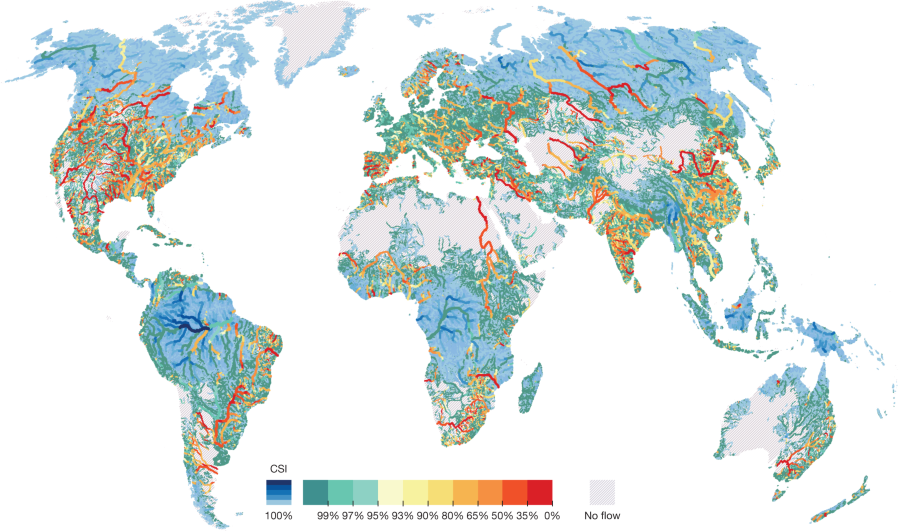 The image represents connectivity status index (CSI) of the world's river reaches. Of all the river reaches, 48.2 per cent (by number) are impaired by diminished river connectivity to various degrees. The blue shades in the map represent the magnitude of river discharge for river reaches with 100 per cent CSI.
"Free-flowing rivers are important for humans and the environment alike, yet economic development around the world is making them increasingly rare," said Günther Grill, a postdoctoral researcher in McGill University's Department of Geography.
"The world's rivers form an intricate network with vital links to land, groundwater, and the atmosphere,'' added the lead author of the study that assessed the connectivity status of 12 million km of rivers in the first such global assessment.
Global warming
Rising temperatures caused by climate change also impact flow patterns, water quality, and biodiversity in rivers, the study claimed.
As countries shift to low-carbon economies, plan more and more hydropower plants, energy systems that minimise overall environmental and social impact need to be developed, the study suggested.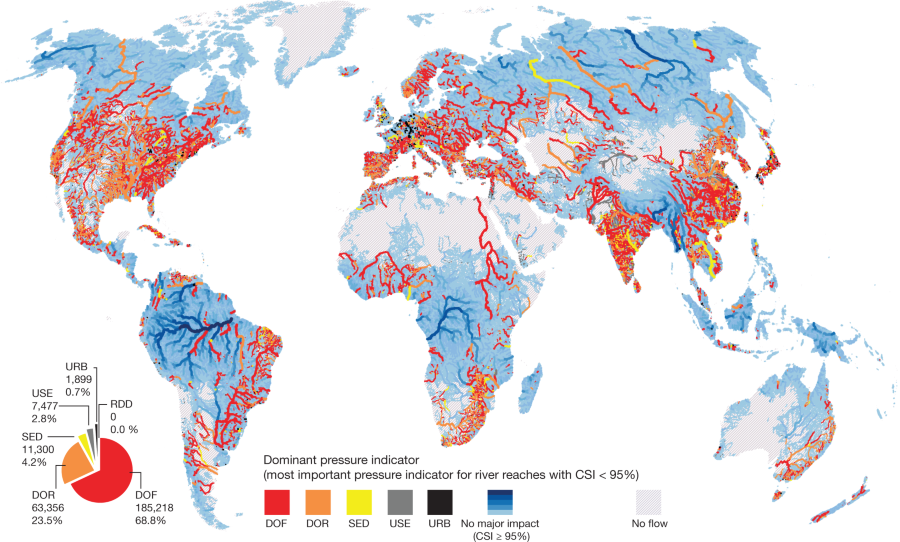 The dominant pressure indicator for global river reaches below the CSI threshold of 95%. Pressure indicators include the DOF (degree of fragmentation), DOR (degree of regulation), SED (sediment trapping), USE (consumptive water use) and URB (urban areas). The inset shows the number and proportion of river reaches per dominant pressure indicator at the global scale.
While development cannot be eliminated, "finding smart and sustainable solutions in which free-flowing rivers and humans can co-exist," can help, Bernhard Lehner of the research team said. Solutions, according to him, could be:
Prioritising other energy sources (wind, solar, etc)
Improving dam operations
Identifying better dam locations
Wildlife have declined the fastest at freshwater habitats, according to the World Wildlife Fund's 2018 Living Planet Report, losing 83 per cent of their vertebrate populations between 1970 and 2014. There is 4 per cent loss in the total number of freshwater species every year.
Under Agenda 2030 for Sustainable Development, countries are required to track the extent and condition of water-related ecosystems. These can help support freshwater fish stocks, improve food security, mitigate the impact of extreme floods and droughts, prevent erosion.
Dams and other infrastructures which cause disruption to river's connectivity eliminates these critical ecosystem services.
We are a voice to you; you have been a support to us. Together we build journalism that is independent, credible and fearless. You can further help us by making a donation. This will mean a lot for our ability to bring you news, perspectives and analysis from the ground so that we can make change together.